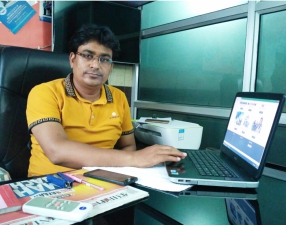 Director's Message
Perfect Computer Education
is an inimitable organization working with single-minded purpose to bring a gigantic transformation in the world. It draws knowledge from a pool of proficiency and experience to offer the best and the most practical education to its students. It offers various Software and professional career oriented courses and focus on the pursuit of excellence in Computer Education, Training and Research. Perfect Computer Education career courses ensure students to learn the skills that make them employable without compromising on quality and fundamentals.
Perfect Computer Education
is an
ISO 9001:2015
certified Institute. It was established in 1999 and since then has grown on regular basis where it is now firmly established as the leading training Institution on Computer training and development. The Institute of Computer Training exists to continuously raise standards of professionalism within the training industry. Perfect Computer Education focuses on enhancing and recognizing the skills and professional status of individuals and organizations engaged in training activities and assessing the quality of training services.
Vision
To provide quality education to every corner of our country to contribute to the Computer world by focusing on education and research